CONTACT
US
---
Address:
Community Cats Coalition
P.O. Box 1761 Berlin, MD 21811
Business Hours:
Please remember that we are an all volunteer group. We receive calls every day from the public concerning cats. We will make every effort to respond to your call as soon as we are possibly able. Every call and every cat is of the utmost importance to us. Call 443- 909-8047 or send us an email to communitycatscoalition@gmail.com
BECOME A MONTHLY SPONSOR.
Donate monthly to help Community Cats Coalition - $10, $20 or $35 per month.
---
GIVE A ONE-TIME DONATION
NEWS & INFORMATION
Summer Weather Tips
Rising temperatures means special considerations for cat care. Here are some tips to keep your feline friend well-fed and hydrated during warmer months.
Food
Don't leave food out for too long. After about 30 minutes, bugs will start to show up. Picking up uneaten food after roughly 45 minutes helps prevent that.
Feed cats dry food in the summer—it attracts fewer insects. But if you give wet food, add water to keep it from drying out, or be sure to pick it up within 45 minutes.
Invest in an ant-proof bowl.
You can create your own "ant barrier" by surrounding the bowl with baking soda or a line of food-grade diatomaceous earth without chemical additives.
Water
Extra water is essential in hot weather. Too much water is better than not enough.
Place water bowls in shaded areas. Feeding stations keep water out of the sun, and they're easy to build!
Use a bowl that is narrow but deep. This reduces the bowl's surface area and slows evaporation.
Drop a few ice cubes into the water bowl (if the kitty doesn't mind ice).
Pet water fountains provide a constant stream of water, inspiring cats to drink even more.
Shelter
Provide easy access to shaded places, like under a deck.
Build an outdoor cat shelter on the cheap with supplies found at any hardware store.
Trapping Conditions
If you perform Trap-Neuter-Return (TNR) during the summer, take the extreme heat into account. Do not leave cats in traps—they can get heat stroke just like people. Once the cat is trapped, keep her in the shade with a trap cover or in an air-conditioned space.
Never leave cats in a car while trapping.
Don't place traps on surfaces that get extremely hot from the sun, such as asphalt. The metal can absorb the heat and burn the cat's paws.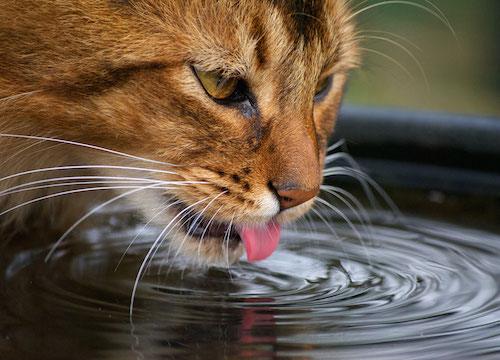 What is Kitten Season?
Did you know that the feline reproductive cycle is influenced by two factors; warmer weather and the amount of daylight in a 24-hour period? In our local temperate climate, we can experience warm periods of weather at any time during the year, so kittens are born throughout the year. However, the greatest number of kittens are born during kitten season, which begins in early spring and runs through late fall. As the amount of daylight begins to increase at the winter solstice (December 21st), the reproductive cycle of intact females kicks into gear, and most will go into heat by January 15th. The feline gestation period is about 60 days, so the first litters of the season start arriving about March 15th each year. As the year progresses towards the vernal equinox (September 21st), the amount of daylight in a 24-hour period is decreasing, causing the feline reproductive cycle to wane.
CCC's Foster Program
It is during kitten season, early spring through late fall, that CCC has the greatest need for volunteers willing to open their hearts and homes and temporarily provide care and comfort to young orphaned kittens or stray queens and their litters.
CCC provides: Medical care, vaccinations, spay/neuter/guidance and support from staff
Fosters are responsible for:
Providing daily care and TLC until your fosters find permanent homes.
Provide food, litter and supplies
Bring fosters to CCC's clinic for needed care, vaccinations and s/n surgery.
Promote your fosters for adoption among your own circles to help find them homes.
Fostering kittens can be a wonderful way to teach children how to handle animals and can also help a family decide whether they are ready to take on the commitment of adopting a pet.